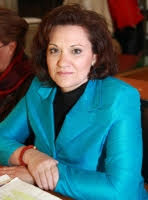 Maria Bottis is an Attorney-at-law and a Processor, School of Information Science and Informatics, DALMS, Ionian University. She graduated from Arsakeion High School of Patras with High Honors (20/20 graduation certificate, first of class) and had been under full tuition scholarship throughout high school. In 1985, she topped the Greek National examinations for entrance in all Universities/all disciplines with 1998 points over 2000, and entered in Athens Law School first. She is a Honors graduate of Athens Law School (graduated first of class). She is a holder of a LL.M degree (Cambridge Law School UK) a LL.M degree from Yale Law School and a PhD on medical information law and ethics from the University of Athens. She was accepted by Harvard Law School for LLM studies in 1993. She was appointed Faculty Fellow at Harvard University, Center for Ethics and the Professions (2000-2001). She has been awarded scholarships from NATO, the Onassis Foundation, IKY (the Greek National Scholarships Foundation), the Rotary Club of Athens, the Yale Law School, Harvard and Clare Hall, Cambridge.
Maria Bottis has served as an elected Co-Director of the International Society for Ethics and Technology (elected in 2014 for the period 2014-2018) and in the INSEIT board meeting of 22.6.2015, she was appointed as (the sole) Director of INSEIT. She has authored and edited or co-edited twenty two works (books-monographs). She is also the author of more than 80 Greek and international publications on computer and information law/ethics, data protection, digital divide, library ethics, privacy medical/health law and others. She is a EU expert called in missions in Europe and beyond. She is the founder of the International Conference on Information Law and Ethics (ICIL) series, from 2008 onwards, of the Athens Data Protection Colloquium (with Dr. Fereniki Panagopoulou-Koutnatzi) and of the Medical Responsibility and Ethics (MRBE) conference series (with Dr. Fereniki Panagopoulou-Koutnatzi). She has been the organizer or numerous symposiums, seminars, colloquiums e.tc. She has delivered more than sixty speeches, presentations, lectures in Greece and abroad. She is the Head of the Ionian University Research Team 'Information: History, Regulation and Culture'. She is a member of the management committee and/or working group member of several EU actions representing Greece.
In 2016, she was elected Director of the Graduate Program of DALMS, Ionian University.
Ιn 2015, Maria Bottis was appointed member of the IEEE Global Initiative Personal Data Committee.
Ιn 2016, she was appointed member of the UNESCO executive committee on bioethics of Greece and member of the Scientific Committee of Digital Services of the National Library of Greece.
The Greek Unit of the UNESCO Chair in Bioethics (Haifa)
In 2018, she was appointed as a Member of the Scientific Board of the Institute for Privacy Law, Data Protection and Technology (IPL) of the European Public Law Organization (EPLO).
https://www1.eplo.int/ipl
In 2020 she was elected Chair of the Department of Archives, and Library and Museum Studies, to serve a two year term.
Books-monographs
1. Liability for the transfer of medical information in Greek and common law and ethics, Sakkoulas, 1999, in Greek (pp. 1-210)
2. Medical Liability and Bioethics, 2013, Broken Hill Publishers, 2013 (co-ed.) (pp. 1-484) (in Greek)
3. Tort Law Hellas, Kluwer Law International, International Encyclopedia of Laws, 2003 (pp. 1-363)
4. The Law of Information, Nomiki Bibliothiki, 2004, in Greek (pp. 1-272)
5. The Legal Protection of Databases, Nomiki Bibliothiki, 2004, in Greek (pp. 1-334)
6.
A Defense of Intellectual Property Rights
, with R. Spinello, Edward Elgar Publishing, 2009 (pp. 1-218)
7. A World for Information Law, Nomiki Bibliothiki, 2010 (ed.) (pp. 1-130)
8. Proceedings of the 8th International Conference Computer Ethics: Philosophical Enquiry 2009, (ed.) Nomiki Bibliothiki, p. 1-750
9. Values and Freedoms in Information Law and Ethics, 2011 (co-ed.) Nomiki Bibliothiki (pp. 1- 800)
10. Privacy and Surveillance-Current Aspects and Future Perspectives, Nomiki Bibliothiki, 8. 2013 (ed.) (pp. 1-350)
11. An Information law for the 21st Century, Nomiki Bibliothiki, 2012, (ed.) (pp. 1-681)
12. Honorary Volume for Evi Laskari-Equity, Integrity and Beauty in Information Law and Ethics, 2013, Nomiki Bibliothiki (ed.) (pp. 1-850)
13.
The history of information-from papyrus to the electronic document, Nomiki Bibliothiki, 2014, (ed.), pp. 1-668, in Greek
14. Bioethical Concerns, pp. 1-821, ed. Papazissi, 2014 (in Greek)
15. Lifting Barriers and Empowering the Future of Information Law and Ethics, University of Macedonia Press, Thessaloniki: 2015, pp. 1-750
16. Bioethical concerns II-the human face, Papazissi publications, pp. 1-693, with F. Panagopoulou-Koutnatzi (eds.)
17. Broadening the horizons of Information law and ethics- a time for inclusion, 2017, Bottis M. & Alexandropoulou T., editors, University of Macedonia Press, 2017, ISBN 978-618-5196-25-7, pp. 1-486
18. Bioethical Concerns III / The Child, ed. Papazissi, pp. 550, with F. Panagopoulou.
19. Children and Information, aspects of history, law, ethics and culture, Ocelotos publishers, Athens, February 2018, pp. 1-595 plus i-xxxvii, editor and coordinator of the volume, M. Bottis.
20.
Access to Knowledge in the 21st century: The Interplay of Society, Education, ICT and Philosophy
, IAFES: Vienna 2018 (pp. 1-258), Maria Bottis/Johann Guenther (editors).
Download the book cover.
21. Bioethical Concerns IV-Health and Genetic Data, editor (with F. Panagopoulou-Koutnatzi), introduction by Konstantinos Menoudakos, Papazissi Editions, Athens 2019, pp. 1-424.
22. The Law of Archives. Personal data, copyright and cultural property. Nomiki Vivliothiki, Athens 2020, pp. 1-415.
23. Libraries and collection development, Ocelotos editions, Athens 2020, pp. 1-180.
More than 80 articles in Greek and foreign journals/publications, contributions in collective works e.tc.
More information:
CV page
Contact:
botti@otenet.gr